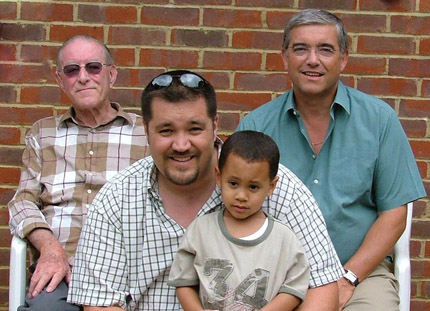 The picture above is of Four Generations of the family, back row from the left is Eric Lickorish Bn 1921, to his right is yours truly Philip Lickorish, in front is my son David bn 1969 and infront of him his son Emilio Bn 2001 who has a sister Demitra Bn 1999. This is the second time four generations have been photographed the first was about 1952 with me in my fathers arms alongside my Grandfather and Great Grandfather, a copy of this is on the site.
When asked my surname people said "I've never heard that before, where does that come from" so I decided to try and find out. That was many years ago and my quest turned into a One Name Study of the surname Lickorish and the variant spellings. Although there is mention of the surname back in the 12th century, I have traced it back to the 16th Century. In the 1530's the stronghold is in an area where the counties of Warwickshire, Northamptonshire and Leicestershire meet. Then over time the family has moved all over the world.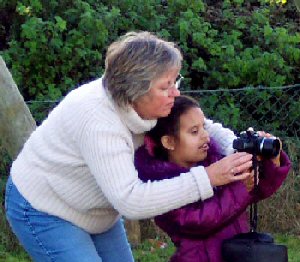 The picture above is my wife Denise with our Granddaughter Demitra. Denise has been researching the surname Christmas for many years, this being her mother's maiden name. To see her data base click on the "Christmas" button above.
To give an idea of the number of people with the surname (any spelling) in 1998 the General Office Indexes for births, deaths and marriages had a total of thirty entries 5 marriages, 15 births and 10 deaths. In 1999 the number was 26, 7 marriages, 11 births and 8 deaths. There are two main spellings, Lickorish and Liquorish, they in turn have variant spellings and at times the spellings cross over families. We are dwindling the 2005 entries shows 2 births, 5 marriages and 3 deaths for the main spellings of the surname.
This site deals with my Lickorish data base, if you want information on Liquorish, then click on the "Liquorish" button above. Information is restricted for those people still living, I have other information which is available upon request.
My thanks to Lynn Paterson who has helped greatly with the 'Lickrish' surname and allowing her research to be published.
I have just started to look into the Licorish spelling of the surname which first appears in the UK around 1952. To see my data please click on the "Licorish" button above.
I hope you find my research of use, I have tried to double check everything but I am only human and make mistakes. If you find any errors or have any information please contact me.