Albert Lickorish
M, (1886 - )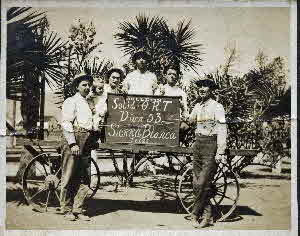 Albert Lickorish is 2nd from right. Date of photo unknown.

Birth*:

Albert

Lickorish

was born in 1886 at Meridan (St Caths).
He was the son of

John

Lickorish

and

Martha

Beech

.

Occupation*:

He was Railroad Agent.

Marriage*:

He married

Margaret

Marchbank

, daughter of

David

Marchbank

, on 31 July 1912 at Bothwell, Kent, USA.

Psgr List*:

He was found on a passenger list on 18 December 1921; Arrived at Liverpool from Portland, Oregon USA with wife Margaret aboard the ship Megantic. Address given for staying in UK as Moore Road, Nottingham. Albert is a painter aged 36 years. According to Immigration it is thier intention to stay in UK.