William Lickorish
M, (1865 - 1942)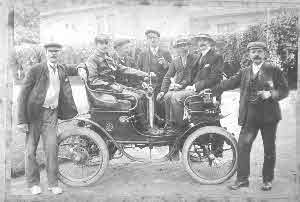 William is thought to be the man standing by the wheel on the left of the picture.

Birth*:

William

Lickorish

was born on 14 April 1865 at Leamington Hastings, Warwick.
He was the son of

Jonathan

Lickorish

and

Ann

Eagles

.

Baptism:

He was baptized on 21 May 1865 at Kytes Hardwick.

Census:

He appeared on the census of 1881; Stable Boy (Groom) living with parents.

Marriage*:

He married

Sarah Jane

Walker

on 24 December 1890 at Horncastle, Lincoln.

Census*:

He appeared on the census of 1911 at Hicksons Cottages, Witham Road, Woodhall Spa, Lincolnshire; Shows William aged 45, Bath Attendant, Married 20 years, 8 children 7 surviving. Wife Sarah Jane aged 44, James Edward aged 17, Dorothy aged 12, Amy aged 9, Ethel aged 8 and Thomas aged 4. They had 5 rooms.

Death*:

He died in 1942 at Horncastle.

Will*:

He left a will; Will Index shows him as late of 7 Alexandra Terrace, Woodhall-Spa, Lincs Probate to Mabel Alice Winter (daughter) and Dorothy Ann Lickorish (daughter spinster) effects £452-9-7d. William lived at Hickston Cottages Woodhall Spa Lincs later called 7, Alexander Terrace. 1881 census Leamington Hastings as Stable boy aged 15 yrs. His wife sarah Jane Ingoldmells could have been babtised Jane Walker as she was born to aristocracy out of wedlock and looked after by a woman whose surname was Ingoldmells. But she married in the name of Sarah Jane Walker.

Burial*:

He was buried in 1942 at Old Grave Yard, Stixwould Road, Woodall Spa, Lincolnshire.