Ann Lickorish
F, (1866 - 1941)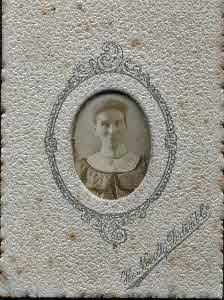 Ann Lickorish, date of photo unknown.
Birth*:

Ann

Lickorish

was born on 5 November 1866 at Leamington Hastings, Warwick.
She was the daughter of

Jonathan

Lickorish

and

Ann

Eagles

.

Baptism:

She was baptized on 30 December 1866 at Kytes Hardwick.

Census*:

She appeared on the census of 1881; 1881 Census shows her in service for the Wright family at Long Itchington.

Census:

She appeared on the census of 1911 at Ormonde Lodge, Southborough, Tunbridge Wells; Shows Ann aged 44 Single and cook for Frances Katherine Hope 64 single. Ann is one of 6 servants living in. Had 23 rooms.

Death*:

She died on 3 December 1941 at age 75.

Will*:

She left a will; Will Index shows her at same adddress on dying and left will James Lickorish r'td asylum attendant as excutor effects £1250-7-9d.