John Frederick Thomas
M, (1877 - )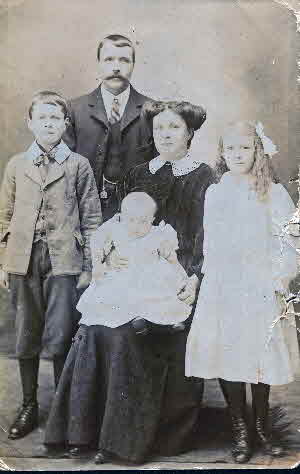 This a photo of John Frederick Thomas with his wife Ada and children Frederick George, Gladys Elizabeth and baby Horace.

Birth*:

John Frederick

Thomas

was born in 1877 at Hull, Yorkshire; June Qtr Sculcoates 9D 174.
He was the son of

Frederick

Thomas

and

Ellen Harriett

Cullum

.

Marriage*:

He married

Ada Alice

Knight

on 15 March 1898 at The Register Office, Isle Of Sheppey; Marriage by Certificate not banns. Ada's age is 18yrs.

Census:

He appeared on the census of 1901 at 3 Fleet Row, Sheerness, Kent; Shown as Frederick J aged 24 a assistant boiler maker wife Ada aged 20 and son Frederick G aged 1.

Census*:

He appeared on the census of 1911 at 3 Short Street, Mile Town, Sheerness, Kent; Shows Ada Thomas 30 years, married for 13 years, has had 4 children of whom 3 survive.Frederick George 11 years son, Gladys Elizabeth aged 9, Horace John aged 5 months. No mention of Frederick but there is a boarder John Thomas Cullum aged 82 a widower.Had 4 rooms.