Violet Winifred Lickorish
F, (1895 - 1959)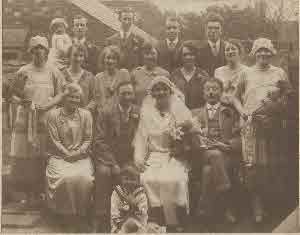 Violets wedding 5th April 1926.Back row l to r, Irene Lickorish, Alfred Lickorish, Unknown, George Lickorish, Stanley ?.Ladies l to r Unknown, Unknown, Gladys Lickorish, Unknown, Unknown, Margaret Lickorish, Ida. Front row l to r Rebecca Lickoriah, Frederick Taylor, Violet Lickorish, James Lickorish, Child in front Eric Lickorish.
Birth*:

Violet Winifred

Lickorish

was born on 5 March 1895 at Bridge.
She was the daughter of

James

Lickorish

and

Rebecca

Wray

.

Census*:

She appeared on the census of 1901; With Family at 1Asylum Cottage, Chartham, Kent.

Marriage*:

She married

Frederick William John

Taylor

on 5 April 1926 at Canterbury (St Caths).

Death*:

She died in 1959.